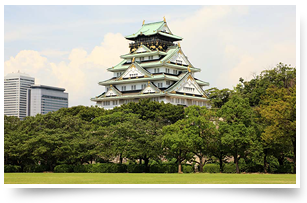 Osaka Castle
The building is a history museum, and on the second floor of the main tower there is a popular corner where you can get your photo taken in period attire.
Kaiyukan

Kaiyukan is one of the largest aquariums in the world.
The Kaiyukan's exhibition concept is based on the "Gaia Hypothesis".
Expo Park

The Expo'70 Commemorative Park was built on the site of the Japan World Exposition (Osaka Expo). A symbol of Osaka to rank with Osaka Castle.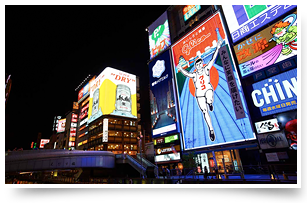 Dotombori-suji
A lively shopping street where it is fun to walk around thinking about whether to eat ramen, okonomi-yaki, tako-yaki, yakiniku, nabe (hot-pot), or food at a Japanese pub.
Kuromon Market

The market not only sells ingredients, but also has a variety of restaurants offering meals cooked with fresh foodstuffs at reasonable prices.
Shinsekai

Downtown culture and the retro atmosphere of old neighborhoods are becoming more and more popular.